CONTACT US
Tel:+86-371-6676-6667
E-mail:sales@hlcables.com
Fax:+86-371-8751-3085
Msn:WhatsApp:8615093102503
Services

Product Service Consent
1. We guarantee to offer new advanced goods.
2. We'd like to send skilled personnel to the installing place to help offer technial consultant, quantity estimation and instruction, installing, preliminary testing,and help start up running; and to answer for any defect of the product found in installing and run testing, If there's something wrong with the product, we'll give our answer within 12 hours and get to the spot within 36 hours.
3. If there's some requirement on technical service, we'll fas to customers after sonsulting with them.
4. After the contract empires, we can still offer our service with the most favorable price and relative technical files with free charge.
5.We welcome temporary representatives to come to our company to supervise and check the goods leaving factory, And we'll offer a good service for the convenience of them.
6.After installaton,We'll send skilled personnel to have the preliminary test and answer for any problems emerged. We take the whole charge of the fee needed in repairing,testing or retesting within the scope of our duty required in contract.
7.During the contract's period of validity,of the project must be started all over again or the goods can not be used at all which is resulted from our faulty goods and improper files or mistakes made by our instrctors, we'll change the goods at once without compensation and take charge in all espenses of restallation.
8.During cable installaton,customers can sue our common tools for free,such as mobile
SERVICES
Henan Huadong Cable Co., Ltd. has been providing its customers with superior and efficient service since inception. We insist on the service philosophy of considerate service, meticulous manufacturing and desirable price to make customers reassured.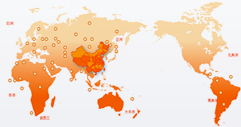 SALES TEAM