CONTACT US
Tel: +86-371-6676-6667
E-mail:sales@hlcables.com
Fax:+86-371-8751-3085
Msn: WhatsApp:8615093102503
Bare Conductor

AAC Conductor AAC ASTM B231 B-230 Aluminum Wire, 1350-H19 for Electrical Purposes B-231,B-400

1.Conductor:all aluminum alloy,2.Standard:ASTM B399/B399M-2004,3.Used for Overhead transmission.

1.Construction:Aluminum Conductor Steel Reinforced.2.suitable for laying across rivers valleys and the places where special geographical features exist

1.ACAR conductor Aluinum Conductor Aluminum Alloy Reinforced,2. specifications: B-230, B-398, B-524.

Optical fiber composite ground wire [OPGW] is suitable for installation on new power lines with double function of ground wire

ACSS is recommended for use for high temperature lines mainly when reconductoring is done over an existing line construction

ACSR conductor Aluminum conductor aluminum clad steel reinforced is widely used in the overhead power distribution system
SERVICES
Henan Huadong Cable Co., Ltd. has been providing its customers with superior and efficient service since inception. We insist on the service philosophy of considerate service, meticulous manufacturing and desirable price to make customers reassured.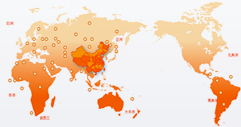 SALES TEAM