CONTACT US
Tel: +86-371-6676-6667
E-mail:sales@hlcables.com
Fax:+86-371-8751-3085
Msn: WhatsApp:8615093102503
LV Power Cable

1.Voltage:0.6-1KV; 2. Armoured: Steel tape armoured/Steel wire armoured ; 3.Conductor:copper or aluminum ; 4.Insulation:XLPE/PVC ; 5.Sheth:PVC/PE.

1.Voltage:0.6-1KV ; 2.Insulation:XLPE ; 2.conductor:aluminum/copper ; 3.sheath:PVC/PE ; 4.packaging: wooden drum,steel drum,others as your request.
SERVICES
Henan Huadong Cable Co., Ltd. has been providing its customers with superior and efficient service since inception. We insist on the service philosophy of considerate service, meticulous manufacturing and desirable price to make customers reassured.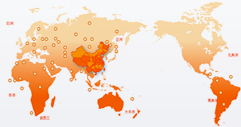 SALES TEAM