CONTACT US
Tel: +86-371-6676-6667
E-mail: sales@hlcables.com
Fax:+86-371-8751-3085
Msn: WhatsApp:8615093102503
ACSR Conductor
1.Construction:Aluminum Conductor Steel Reinforced.2.suitable for laying across rivers valleys and the places where special geographical features exist
Tel:+86-371-6676-6667 / E-mail:sales@hlcables.com


Introduction
ACSR Conductor feature:
1. Conductor: Hard-Drawn 1350-H19 Aluminum Wires, Minimum Purity 99.45%, 2. Reinforcement: Galvanized Steel Wires (Zinc-Coated)
3. Standards: ASTM B232, 4. Best Seller: Turkey, Sparrow, Raven, Penguin, Waxwing, Dove, Rail, Pheasant, Martin
5. Construction (Aluminum/Steel): 6/1, 7/1, 8/1, 12/7, 16/19, 24/7, 26/7, 30/7, 30/19, 36/1, 45/7, 54/7, 54/19, 72/7, 76/19, 84/196. Cross-Sectional Area: 6~4/0 awg, 80~2312 mcm (80~211.3 mcm for Standard High-Strength Conductor), 7. Galvanization: Class A, B or C
8. Grease Corrosion Protection: Available upon Request
ACSR Conductor Description:
ACSR, Aluminum Conductor Steel Reinforced, is a concentrically stranded conductor, composed of one or more layers ofhard-drawn 1350-H19 aluminum wires helically stranded around an inner layer of hight-strength galvanized steel wires.
Thesteel wire is available in Class A, B or C galvanization for corrosion protection. Aluminum wires of the same nominal diameter aretwistd together in concentric layers. For more than one layer of conductor, successive layers are twisted in opposite directions which is defined as right hand lay (Z) or left hand lay (S). Additional corrosion protection is also available through application of grease to the core or infusion of the complete conductor with grease.
ACSR Conductor has long been used as overhead high tension transmission lines and are recognized by its economy, dependabilityand favorable strength / weight ratio. ACSR combines the light weight and good conductivity of aluminum with the high tensilestrength and ruggedness of steel. In line design, this can provide higher tensions, less sag, and longer span
ACSR Conductor parameter:
Code name

Nominal aluminium area

Stranding and wire diameter

Sectional area of aluminium

Total sectional area

Approx. overall diameter

Approx. mass

Calculated D.C. resistance at 20oC

Calculated breaking load

Al

Steel

mm2

No./mm

mm2

mm2

mm

kg/km

Ω/km

kN

RABBIT

50

6/3.35

1/3.35

52.88

61.7

10.05

214

0.5426

18.35

DOG

100

6/4.72

7/1.57

105

118.5

14.15

394

0.2733

32.7

WOLF

150

30/2.59

7/2.59

158.1

194.9

18.13

726

0.1828

69.2

DINGO

150

18/3.35

1/3.35

158.7

167.5

16.75

506

0.1815

35.7

LYNX

175

30/2.79

7/2.79

183.4

226.2

19.53

842

0.1576

79.8

ZEBRA

400

54/3.18

7/3.18

428.9

484.5

28.62

1621

0.0674

131.9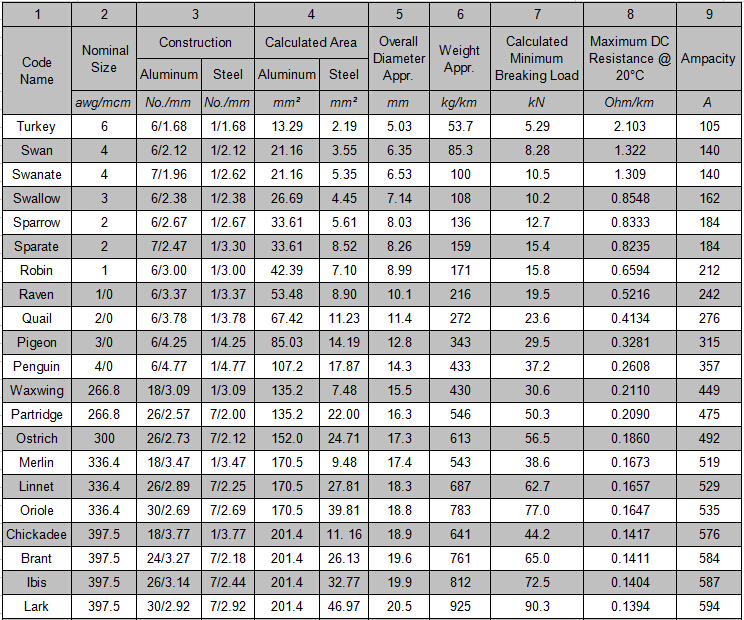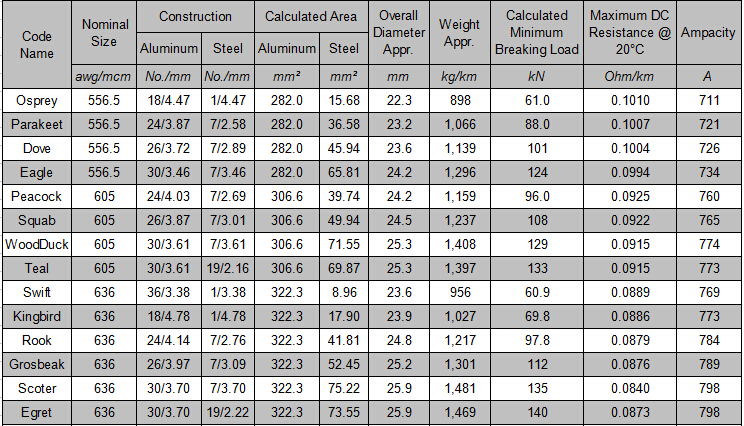 Related Products